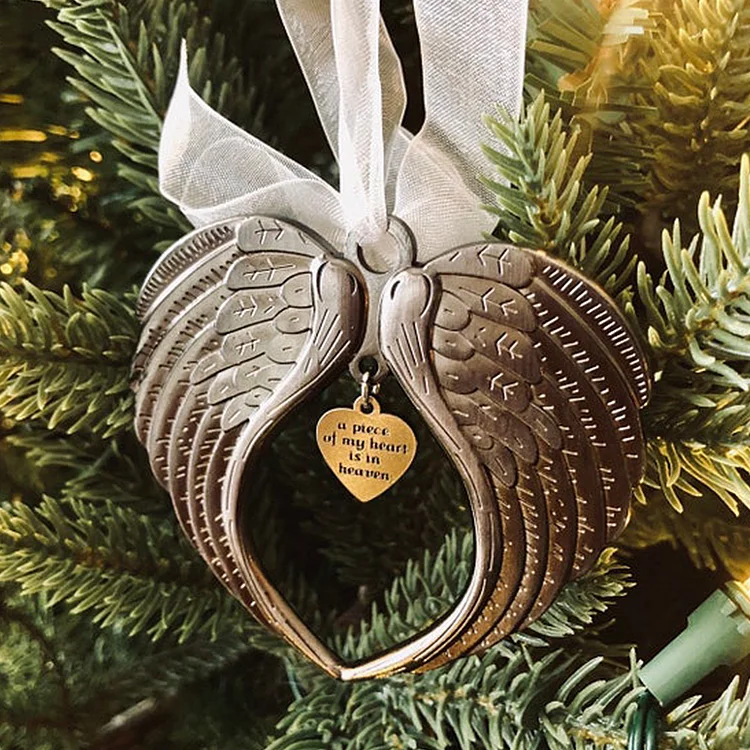 The heart-wrenching memorial angel decoration will make your loved ones leave beautiful memories! Have you been looking for a special gift to commemorate a loved one who has passed away? How about luxurious, antique-designed angel wings decorations.  Our lost loved ones will always be in our minds, inspiring, encouraging and empowering us. We created an original, classic angel wing ornament with "My Heart in Heaven" engraved on it to strongly remind this person of the impact on our lives.
Our commemorative angel wings are decorated with eye-catching white ribbons.Meet quality and design! These beautifully curved angel wings can stand out in any room decoration. Combining high-quality materials, detailed manufacturing techniques and elegant red velvet gift packaging, this is a touching souvenir.
Sku:AS103399
Material: Metal
Size: 65*68mm
Rope Length: 40cm
Weight:21g
Description:A Piece of My Heart is in Heaven Ornament  - Double Sided Memorial Ornament for Loss of Loved One With Luxurious Silk Ribbon .
Artistically crafted ornament, in the shape of angel wings, double sided, with the inspiring "A Piece Of My Heart Is In Heaven" inscription in the center.
Unlike many flimsy similar products, this large, 3" diameter x 2.75" tall ornament in the classic silver antique color will make a precious family ornament, worth passing on to future generations.
Package Included:
1* Angel Wings Ornament
Share Your Christmas Photos With Us!
Load more